See on Scoop.it – KH6JRM's Amateur Radio Blog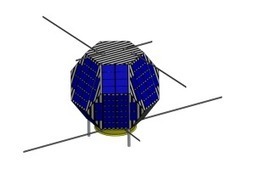 The IARU Amateur Satellite Frequency Coordination Panel has announced frequencies for the Shin-En2 linear transponder. Shin-En2 is a 2.85 kg satellite measuring 490×490×475 mm built by students at …
If all goes as planned, the Shin-En2 satellite from Kagoshima University in Japan will launch in the 4th quarter of 2014.  The IARU has released the frequencies for this bird:
Coordinated Frequencies–437.505 MHz (CW beacon).  437.385 MHz (WSJT telemetry).  Inverting SSB/CW transponders–145.940-145.960 MHz (uplink LSB).  435.280-435.260 MHz (downlink LSB).
What makes this satellite unusual is its orbit.  According to the IARU Amateur Radio Satellite Frequency Coordination Panel, Shin-En2 will "have an elliptic orbit around the sun and travel to a deep space orbit between Venus and Mars."  This should be an exciting satellite to monitor.  Aloha de Russ (KH6JRM).
See on amsat-uk.org
Filed under: Amateur Radio, Ham Radio | Tagged: Amateur radio, Japan, Kagoshima University, Russ Roberts, Satellite, Sin-En2 Satellite, Transponder, WSJT |