See on Scoop.it – KH6JRM's Amateur Radio Blog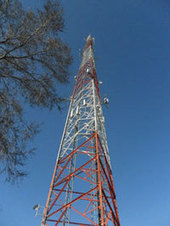 The technology is tried-and-true but smaller size can handle more power than ever before.
Thanks to reporter  David Hall for bringing this update to my attention.  This article will appeal to those of us who were broadcast engineers sometime in our distant past.  Professional Engineer Doug Irwin gives us an appraisal of the current crop of broadcast transmitters available to station owners and engineers.  Included in this summary are transmitters from Harris, Nautel, BE, and more.  Excellent review of specs and capabilities.  Back in the 1970s and 1980s, I was responsible for maintaining an old Collins 20-E 5kw AM broadcast transmitter…quite a lovely beast with its grey and chrome cabinet, rows of meters, the glowing 4X400 drivers, and the pair of 3CX2500 ceramic triodes feeding an old navy tower in the tidepools of Keaukaha, Hawaii Island.  Those were the days.  These modern rigs are quite sophisticated, more energy efficient, and have redundant power modules in case an amplifier dies.  I sort of miss the old 20-E.  It was a work of art.  Aloha de Russ (KH6JRM).
See on radiomagonline.com
Filed under: Amateur Radio, Ham Radio | Tagged: Amateur radio, Doug Irwin, Hawaii, Nautel, radiomagonline.com, Russ Roberts, Transmitter |