See on Scoop.it – KH6JRM's Amateur Radio Blog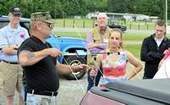 Marines from Camp Lejeune train with local amateur radio operators
Salisbury Post
Hugh Fisher/For the Salisbury Post Ted Jones, of the Rowan Amateur Radio Society, left, demonstrates his Yagi antenna setup for tracking hidden transmitters for LCpl.
Russ Roberts's insight:
An interesting, positive story of how a group of Marines from Camp Lejeune got some "fine tuning" on their radio direction finding skills from members of the Rowan Amateur Radio Society. The group leader, Sgt Phillip Rice (himself an amateur radio operator) asked members of the amateur radio club to provide practice experience in direction finding that couldn't taught in the classroom. So, this past Saturday (31 May 2014) club members set up a demonstration "fox hunt" using special antennas, navigation devices, and direction finding techniques. The exercise was a great success in providing basic training in a skill that could save both civilian and military lives. Aloha de Russ (KH6JRM).
See on www.salisburypost.com
Filed under: Amateur Radio |